Let's meet the amazing Mickey from Sweet Cheeks Face Painting! Mickey's journey into the colorful world of face painting started with her daughters' love for getting their faces painted. She decided to try her hand at it and fell in love with it too! Mickey now runs her own business and has been booking gigs at schools, hospitals, and small corporate events for six years.
Mickey has a special place in our hearts here at Craft-n-Go! She has been helping our team learn more about the incredible world of face painting and even stopped by our company Christmas party to add a bit of glitter and fun to our event! We can't wait for you to meet Mickey, and we know you'll love her as much as we do!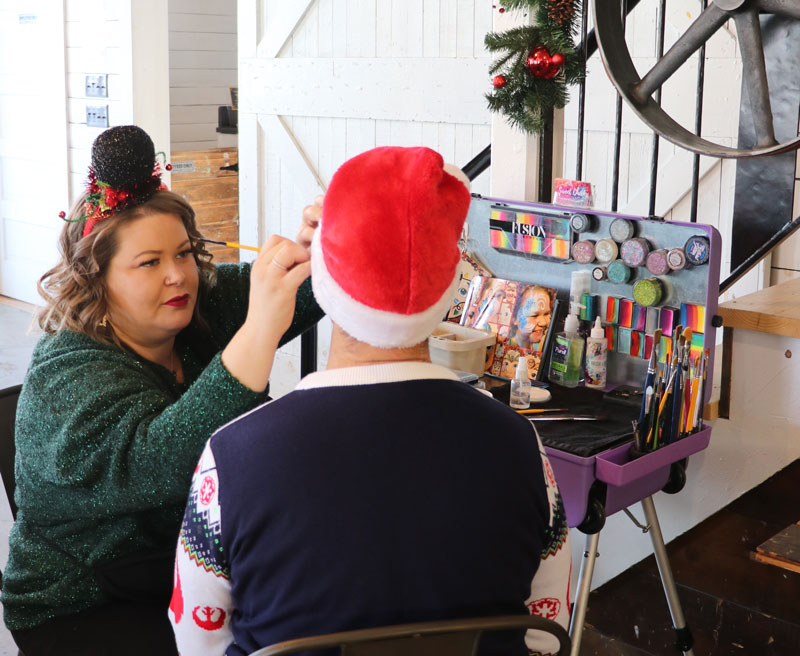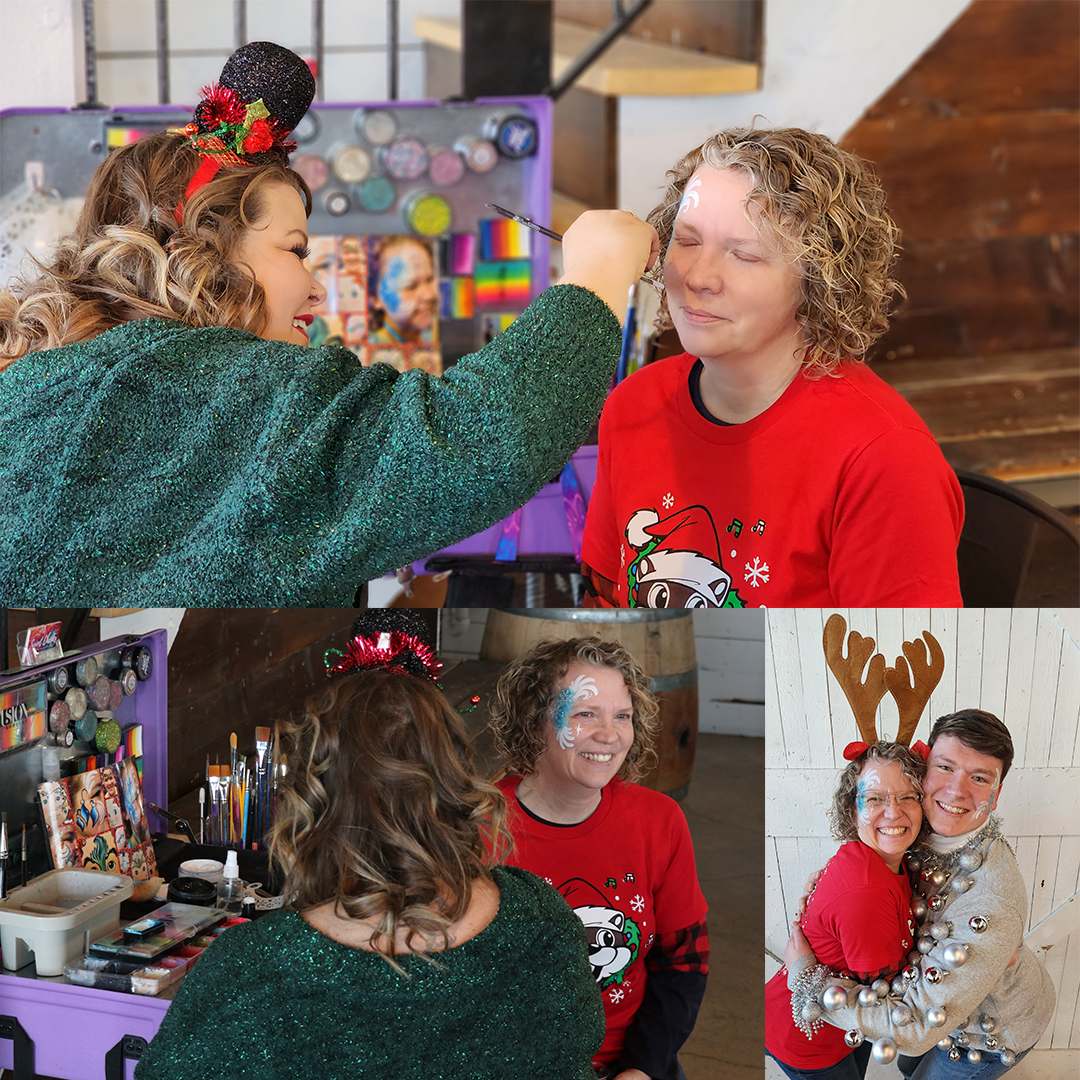 Let's meet Mickey!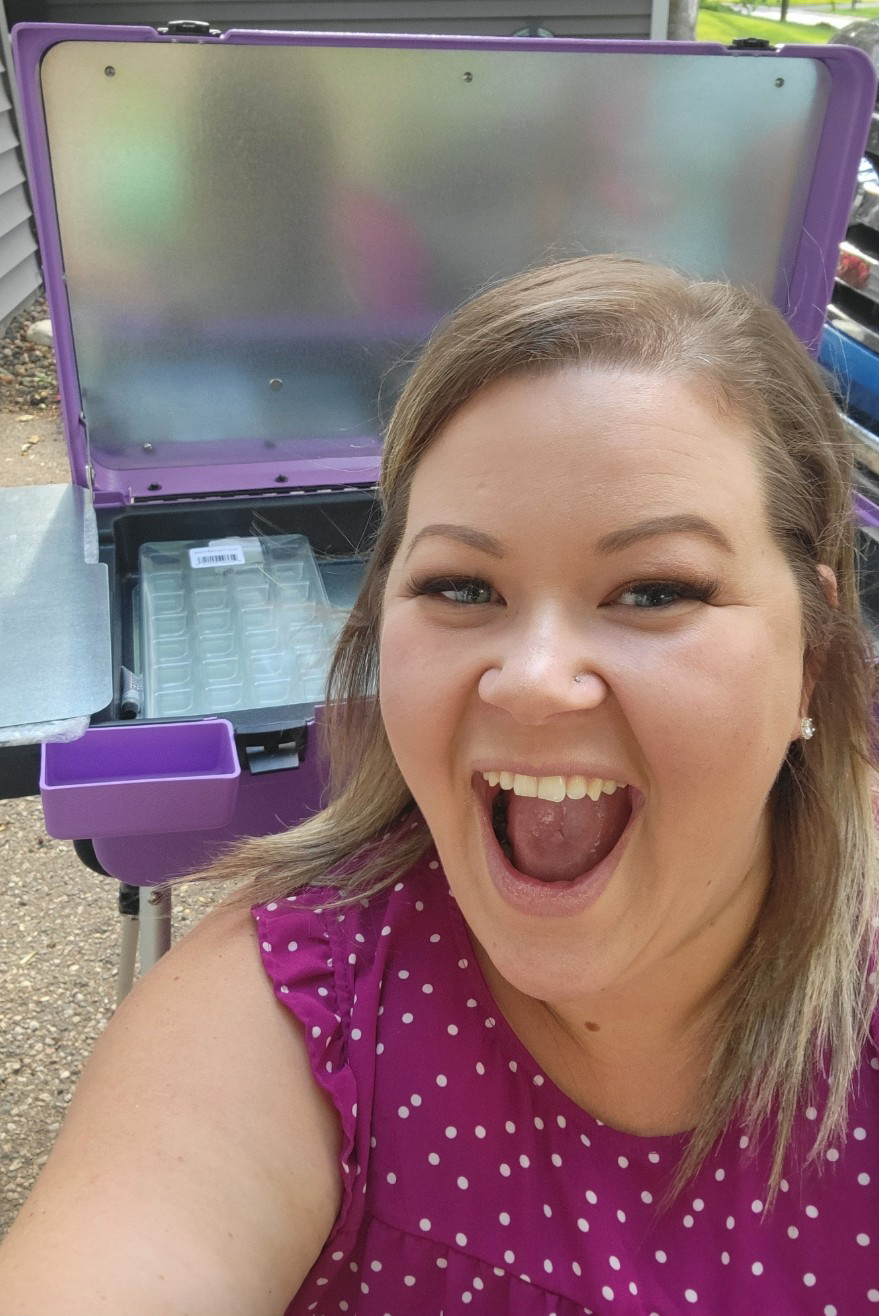 CnG: What inspired you down the path of Face Painting?
Mickey: I started when my daughters were little, as they were obsessed and wanted to get their faces painted every time they saw it. I also love to paint and draw, so I decided to try face painting. We all fell in love with it! I work in Radiology at a hospital, and face painting is that creative outlet I didn't know I needed.
CnG: How did you get started?
Mickey: Little by little! I started booking gigs at schools, hospitals, and small corporate events. My company's name is Sweet Cheeks Face Painting. I am the main artist, but there are some events where I need help, and my daughters are very willing and eager to practice what they've learned so far. My daughters even booked their own farmer's market for face painting and glitter tattoos. It was a proud mama moment!
It took me a while to get in touch with other local face paint artists because I am an introvert, and I wasn't looking to be super busy initially. However, once I started making these connections, I felt more confident as an artist. It is so helpful to bounce ideas off other artists, and it is also so fun to do events together. I highly recommend making these connections.
CnG: What types of events do you typically attend for face painting?
Mickey: My biggest event is at an apple orchard in the fall. I do face paints, glitter tattoos, and festival eyes every Saturday and Sunday in September and October. It is so rewarding because my daughters also do the orchard with me. My 11-year-old face paints and my nine-year-old does glitter tattoos!
I also do corporate events, community events, and my favorite events: birthday parties. I love making the kids feel so special on any occasion, especially birthday parties!
CnG: What has been your most favorite face painting creation?
Mickey: My favorite is the full-face rainbow tiger with glitter!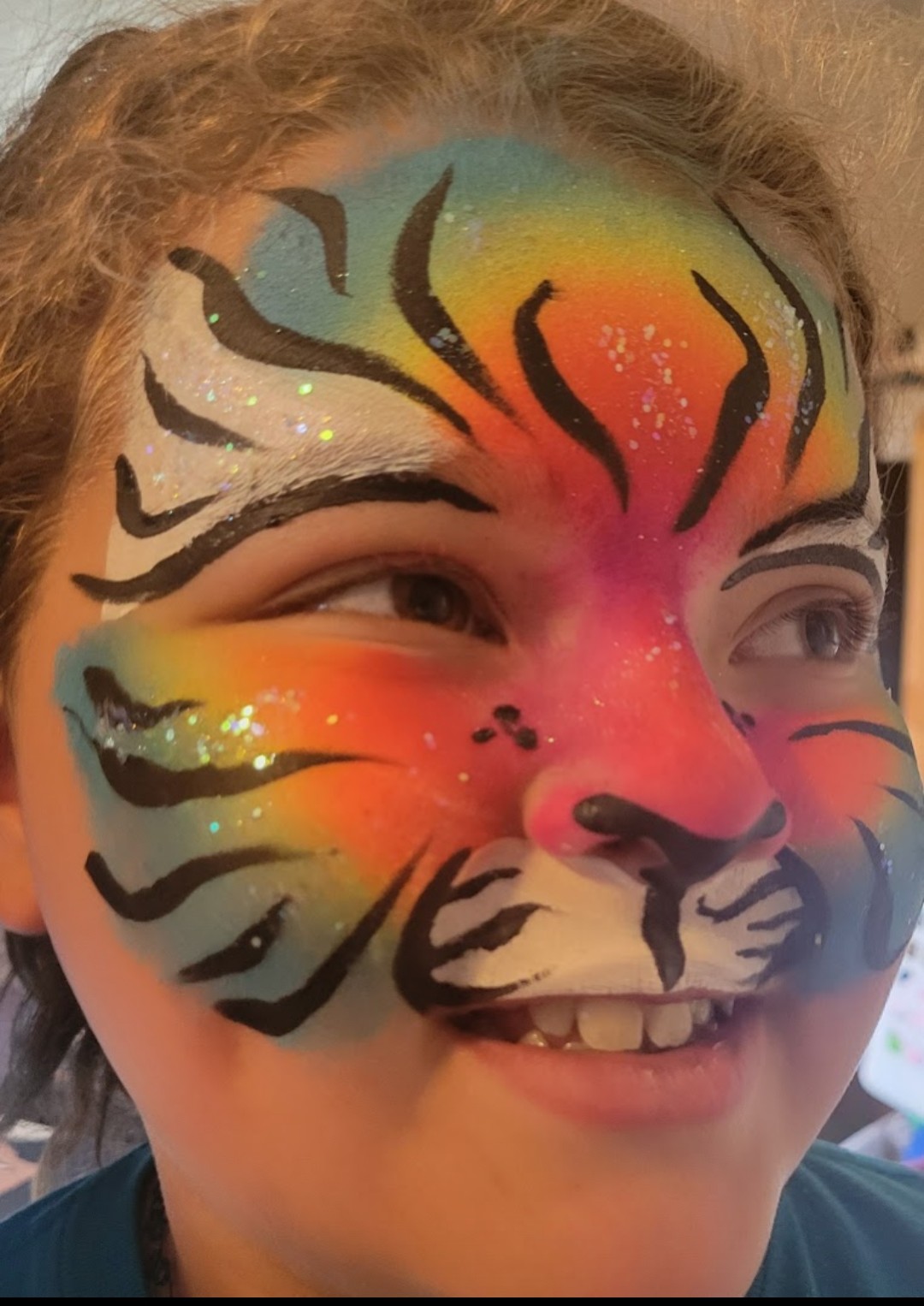 CnG: How do you organize your face painting supplies and or your Craft-n-Go Case?
Mickey: The Craft-n-Go makes organization sooo easy since everything can be magnetized. I am always looking for ways to keep my supplies organized. I love having one tray for my solid colors. I love having all my split cakes and one strokes magnetized.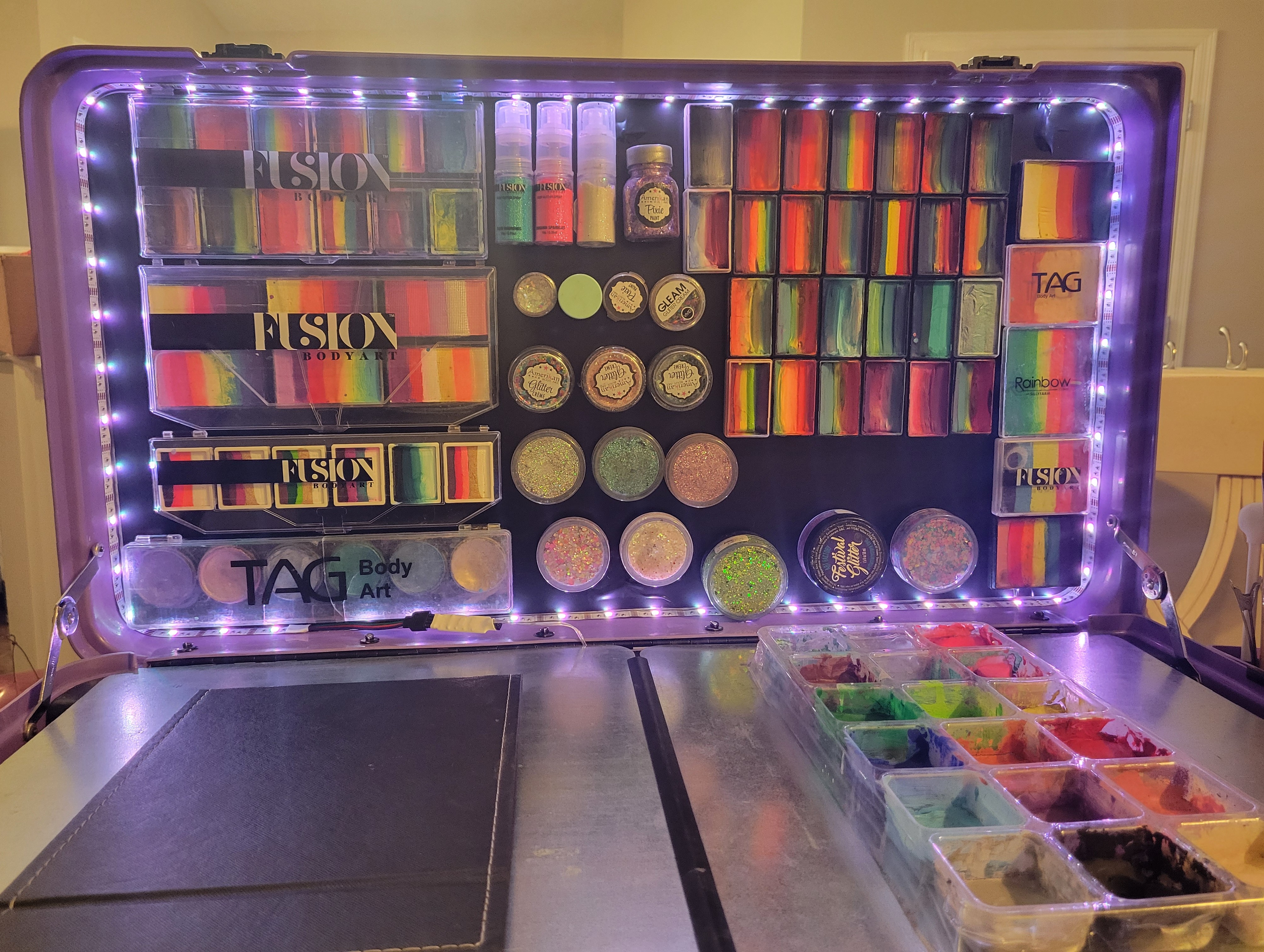 CnG: What is a favorite artist tool you can't live without and why?
Mickey: First and foremost is the Craft-n-Go Standard Case. Now that I have this, it is hands down the one item I cannot live without for my face painting supplies.
I also love using Glitter Cremes because they add that wow factor. My favorite brushes are Loew Cornell. I love the round ones for line work, but I also love the filbert one for teardrops. Give them a try!
CnG: If you had one tip or words of wisdom for others who dream of starting their own face painting business, what would it be?
Mickey:
Start with making a Facebook page for your business and create and hand out business cards. Once I did this, even though it was a couple of easy steps, business picked up!
Talk about face painting! These conversations let others around you know your hidden talents. I have booked several gigs because I have talked about face painting at work or with neighbors, etc.
And the most important advice is to PRACTICE and practice often. Seek out the free webinars on Facepaint.com or watch others on YouTube.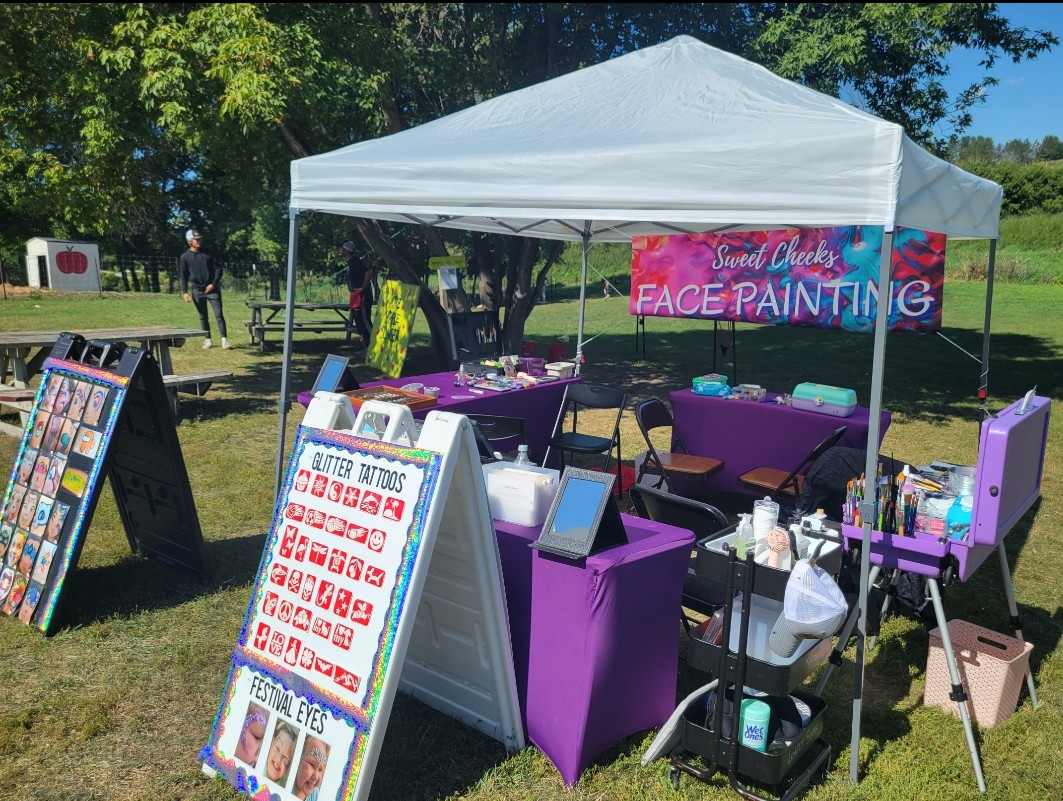 Thank you, Mickey, for being our Artist Highlight of the month! AND for all of the support you have given us at Craft-n-Go!
You can learn more about Mickey on her Facebook page Sweet Cheeks Face Painting.
If you would like to be our next Artist Highlight winner and have the chance to receive a $50 in-store credit at Craft-n-Go, send us your story with a few fun photos to contact@craftngo.com.