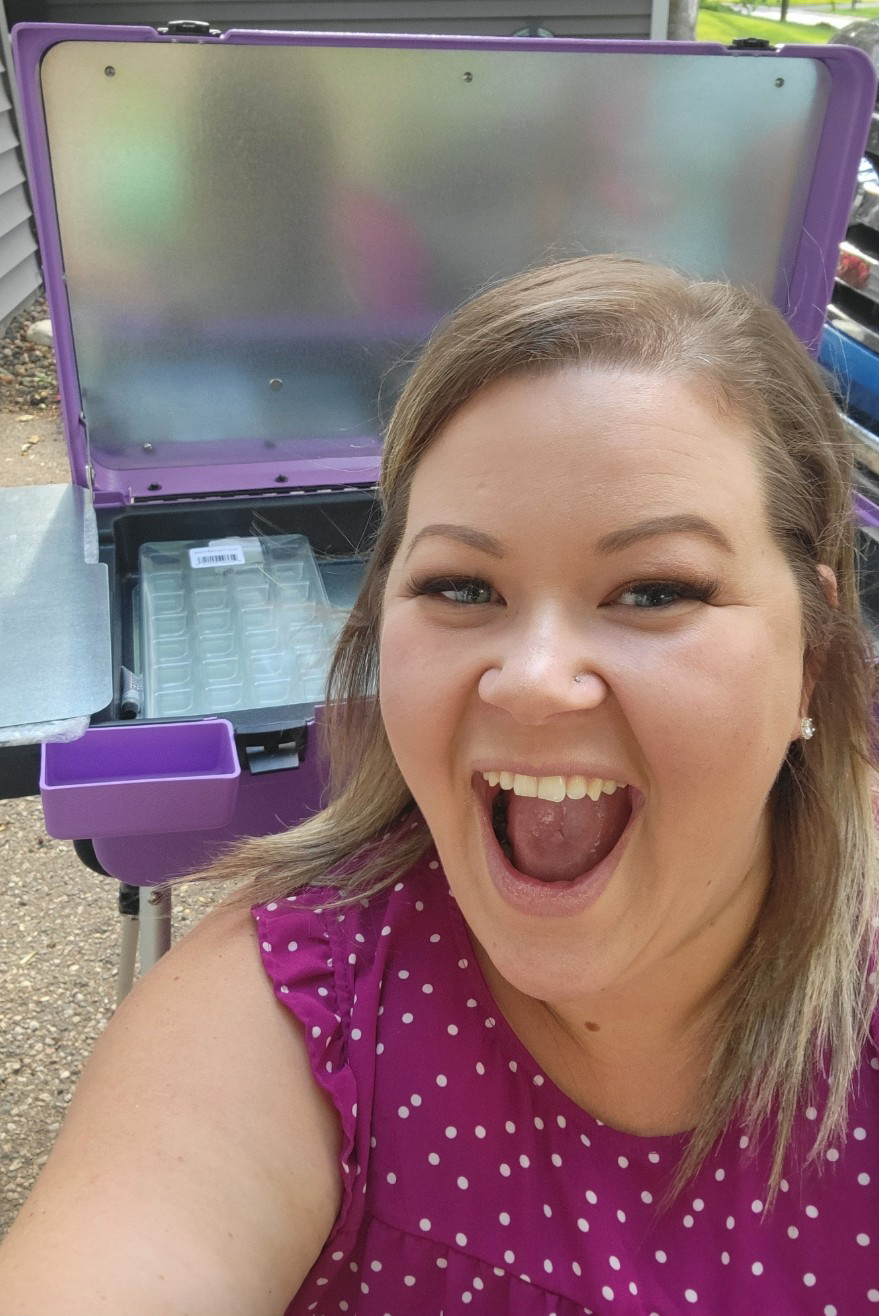 My name is Mickey Kottke, and my company is Sweet Cheeks Face Painting! I have been face painting for 5+ years. I have always loved painting and even took art classes in college while obtaining my degree in radiology! I started face painting because my 2 girls loved to get their faces painted every chance they could. When I ordered a small professional face paint pallet we were all hooked.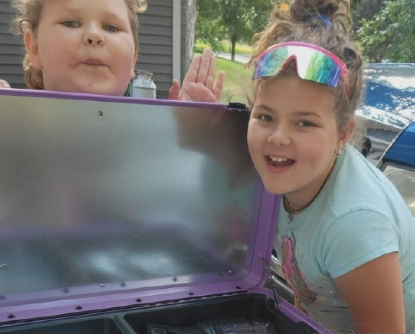 My favorite events tend to be birthday parties because you get to spend more time with each kiddo and help make their day so special! My biggest event is working at an orchard every Saturday and Sunday in September and October. Luckily my girls like face painting and doing glitter tattoos as much as me so they come and help. The following is my review of the Craft-n-Go Standard Case and how I use it for my business.
Face Paint Kits
A common thing I see amongst face painters is our kits are always evolving with us as we grow as a face painter. I started out with this rolling brief case but it only held my supplies in the case. I would then need to unload all of my supplies onto a table. Setup and take down from each gig definitely took some time.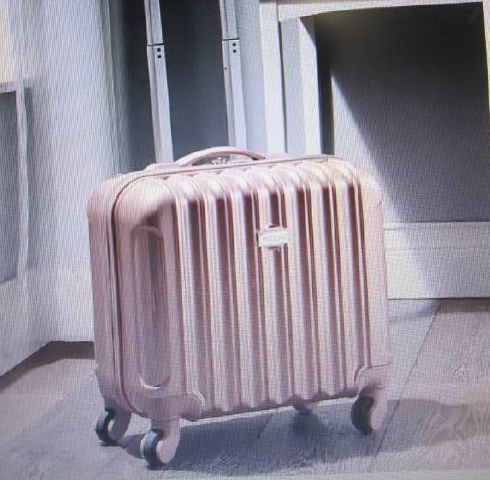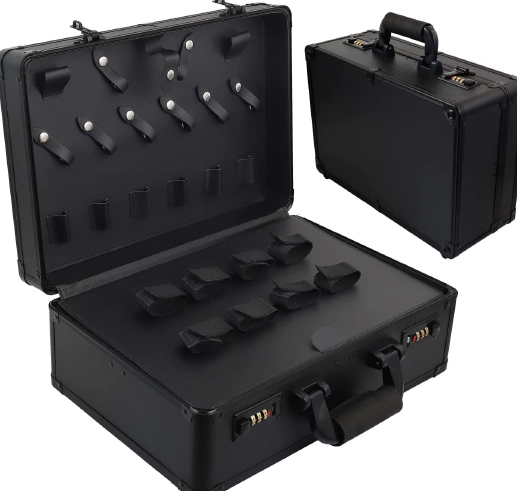 Then I purchased this portable barber's kit because I wanted a kit that I could work out of. This would help with the setup and take down time at each gig, and my supplies were more organized with the use of velcro. However, velcro degrades rather quickly with each use and construction of the kit was also deteriorating. For example the hinge that held open the lid was starting to become loose and would need to be replaced. I felt frustrated and unsatisfied with my kit, again! That's when I knew that I wanted a kit that would last and after researching options, I knew the Craft-n-Go Standard Case was for me!
My On the Job Setup Explained
Table vs. Legs
The option to setup on a table or use the Craft-n-Go legs as designed is great. Using a table allows me to spread out while using the attached legs allows me to setup in countless environments.
I don't prefer one setup vs. the other but I change them up based on the environment I'm working in. If I'm at a birthday party inside I will usually setup on a table. If I am outside, then I tend to go with using the legs.
Brush Storage
The Brush Bin is a great size and I love the color, but I ended up not loving the foam insert that is inside. I felt that the Brush & Tool Tray was easier and quicker to stick a brush in, so I removed the silicone piece from the Brush & Tool Tray and put it in the Brush Bin. This is because I still wanted the purple cohesive look and now it provided more storage since the silicone insert was shorter than the Brush Bin, win win!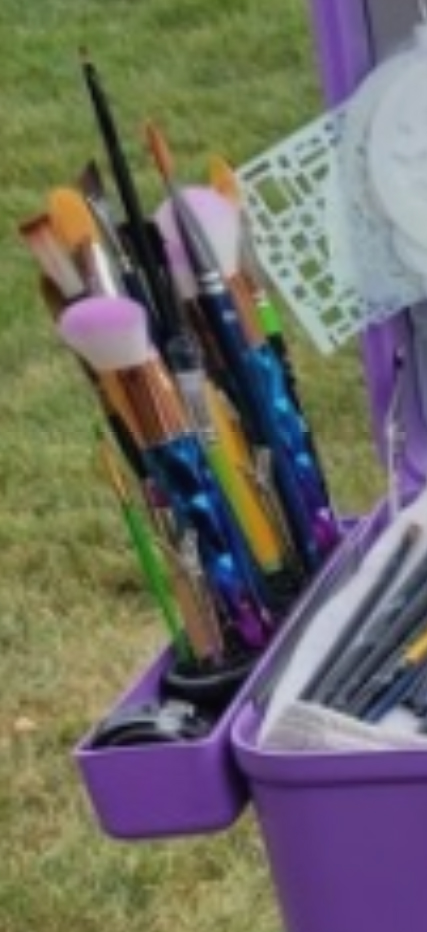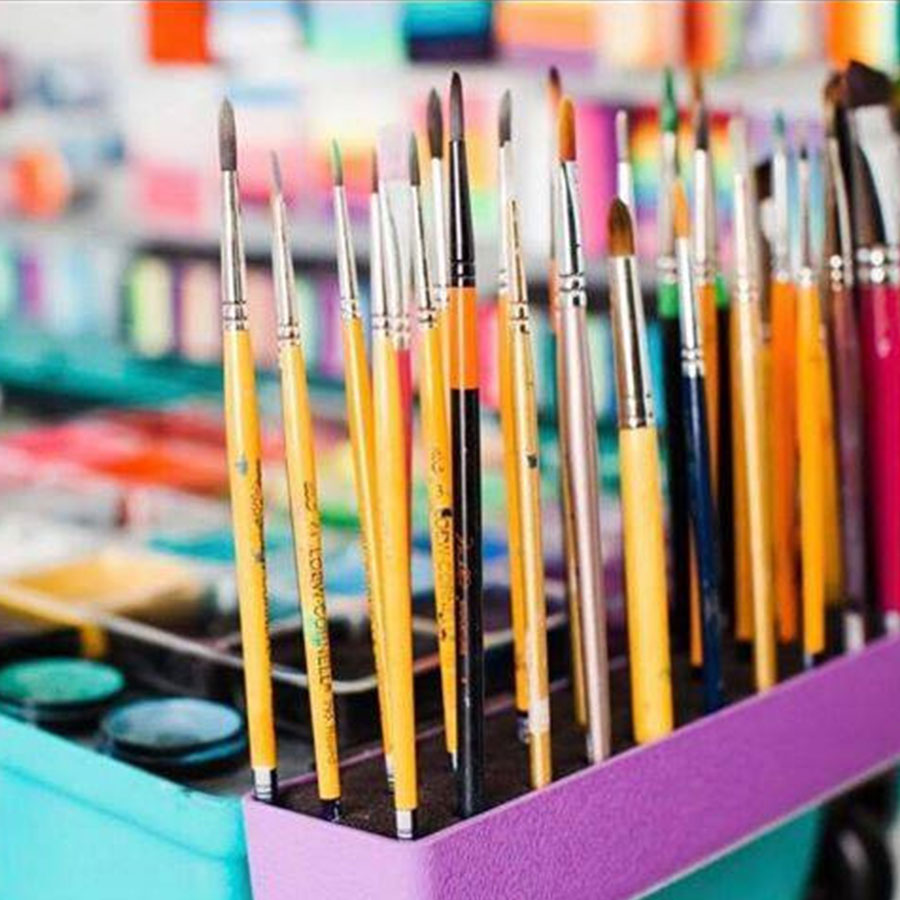 Card Caddy
For my cards I used a 9" metal bar and attached it to the top of the lid with velcro. Then I applied magnets to the bottom of a clear business card holder and placed that on top. I love the functionality of the Card Caddy, but I felt it was too deep for my business cards. The Card Caddy could be used for many purposes, but right now I use it for holding my daubers. I use the finger daubers for stencil use and I like that my daubers are contained yet very accessible. I have also used the Card Caddy for holding my small spray bottle and hand sanitizer. I would find a plastic cover to the Card Caddy useful.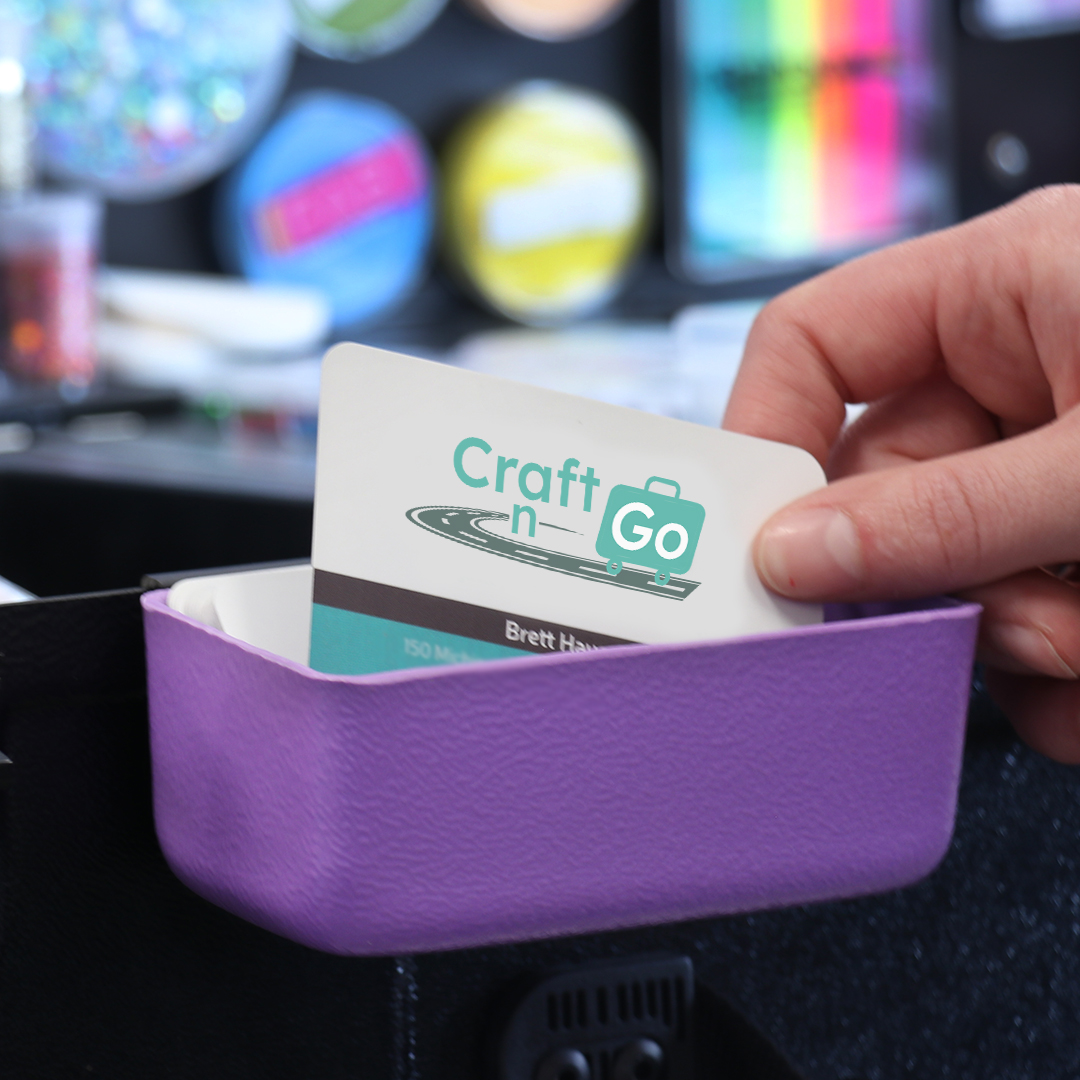 Expansion Tray
When I use the Craft-n-Go for longer gigs that require more supplies I like having the Expansion Tray. For quicker gigs, like a birthday party, I sometimes leave this at home.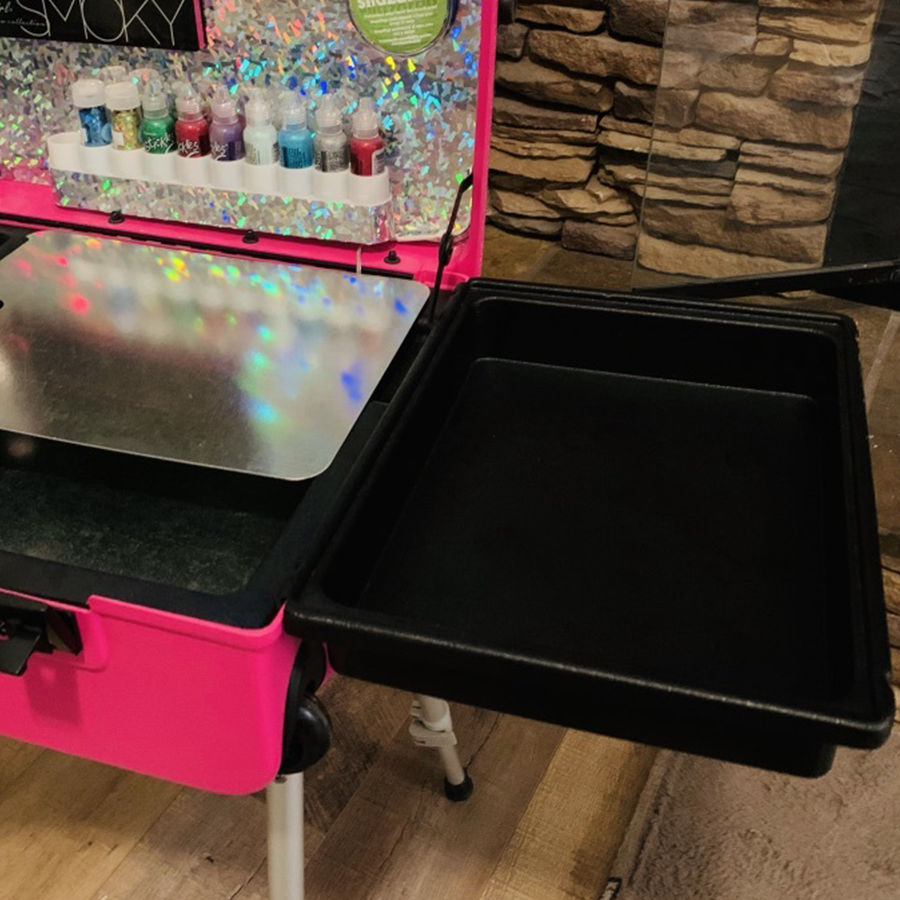 Dazzle Caddy
Having my glitter poofers accessible and organized is awesome. I have magnetized the back of the Dazzle Caddies and added the decorative vinyl. For my future setup, I would love to use a Craft-n-Go Mini Case for a Glitter Tattoo kit and use these caddies.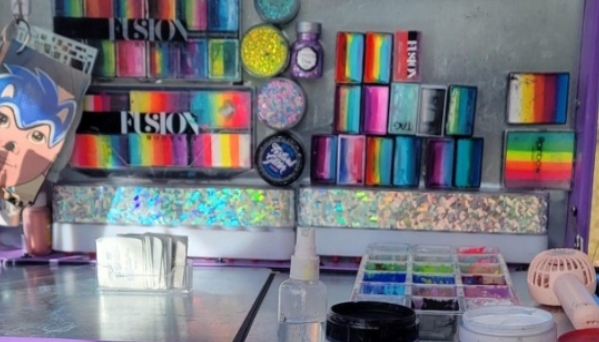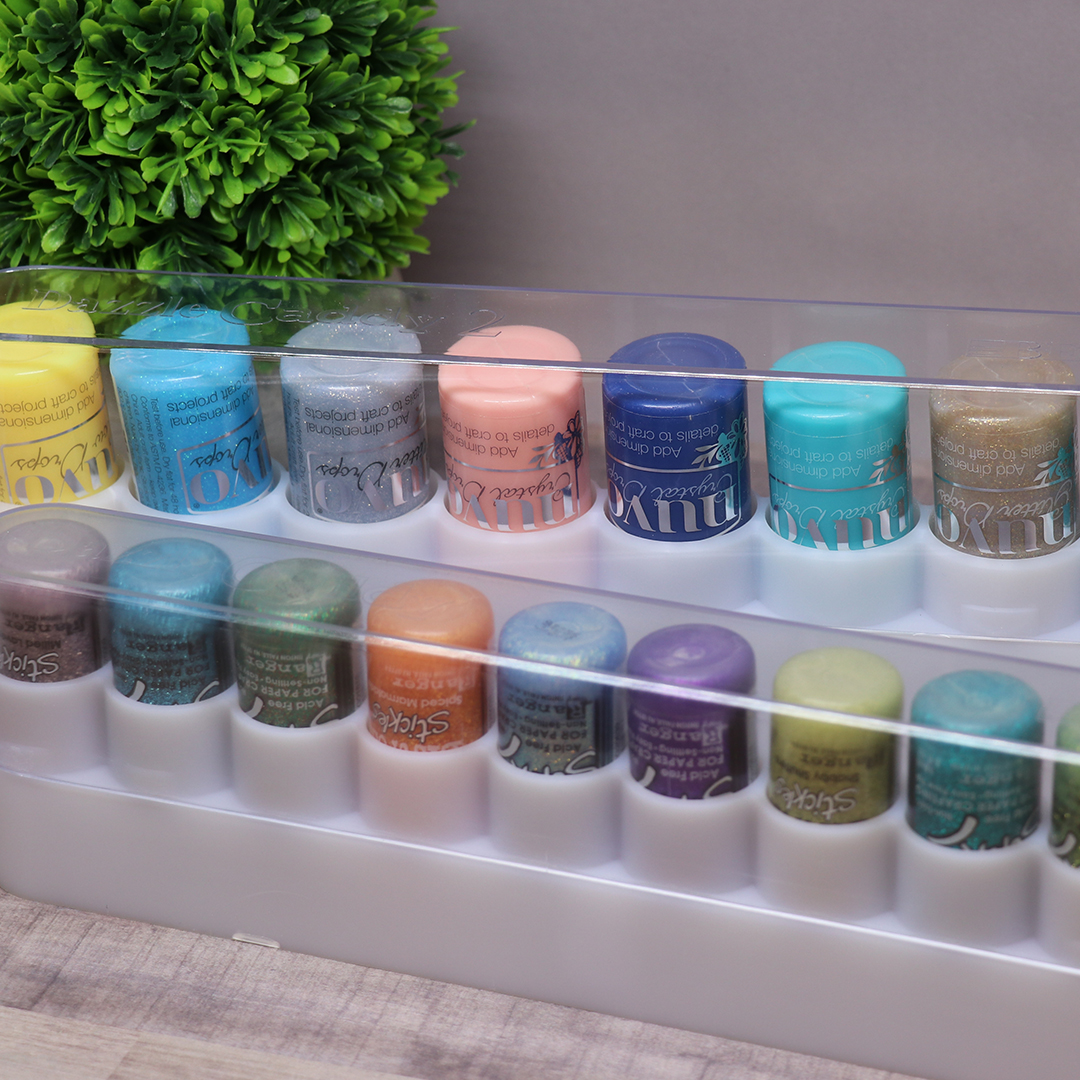 Accessory Tray
I really appreciate having the Accessory Half Tray so I can re-pot all of my solid color paints. This allows me to condense down and eliminate all of the separate containers into one convenient tray. I also love that it has a cover to protect the paints when not in use.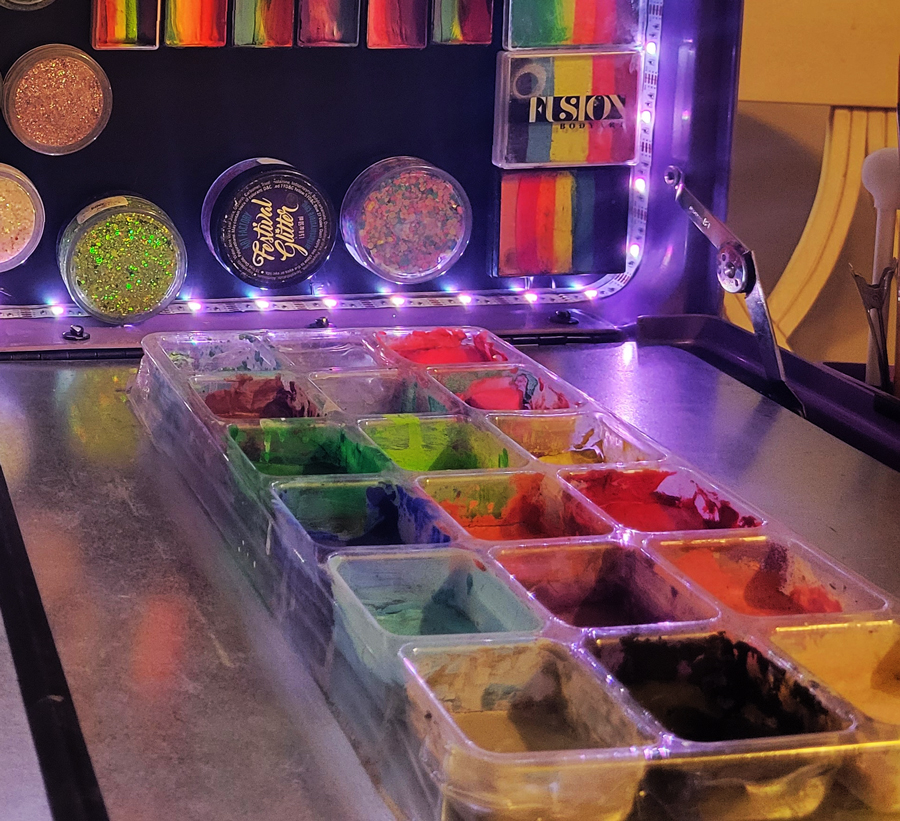 Craft Pouch
Keeping small items organized is so easy in the Craft Pouches. In one of the pouches I like to keep my business cards, a sharpie and a scissors along with other miscellaneous supplies. In the other pouch I like to keep the Card Caddy along with duplicates of one stroke paints.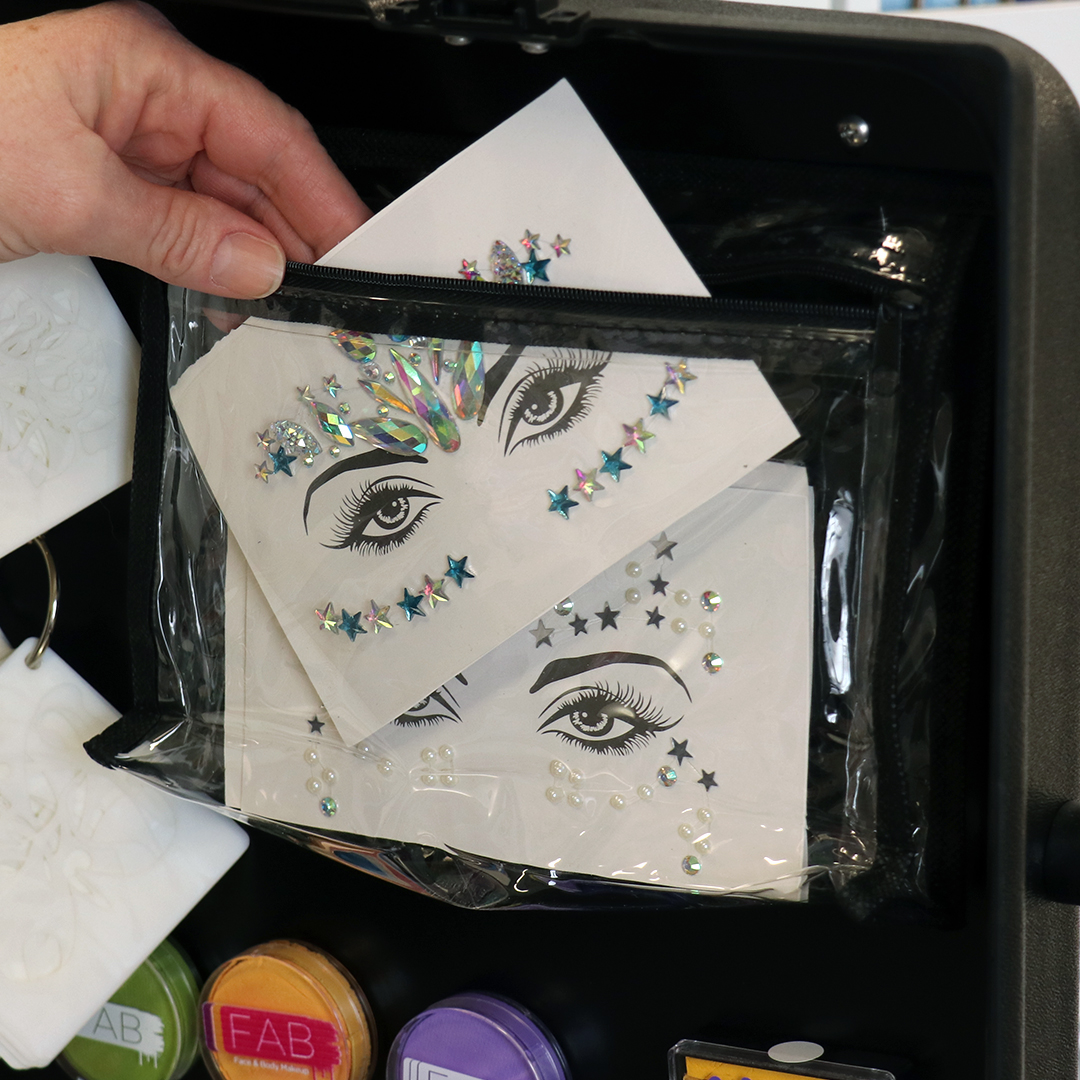 Why is the Craft-n-Go the best investment for Face Painters?
The Craft-n-Go has a positive impact on my business because I instantly look professional. I am able to keep my kit clean and organized very easily since I have everything magnetized. This is a huge advantage over other kits that I have used. My setup and take down time is much quicker now. Before my Craft-n-Go I needed 20+ minutes to setup and then my take down was me quickly throwing supplies in knowing that I would need to organize it again once I got home. Now, I need about 5 minutes for setup and about the same for my take down. Plus, my kit stays organized after each gig!
I am so proud to use the Craft-n-Go. I feel an extra bout of confidence and it translates into my paint creations. When you look good, you feel good, and you paint good!
The Craft-n-Go Case is durable and I appreciate that because like many painters, I have a large variety of events including ones outside. You never know what terrain you will need to haul your Craft-n-Go through. And setting up outside on uneven ground is no issue with the adjustable telescoping legs.
I highly recommend the Craft-n-Go to any serious Face Painter. It's a game changer!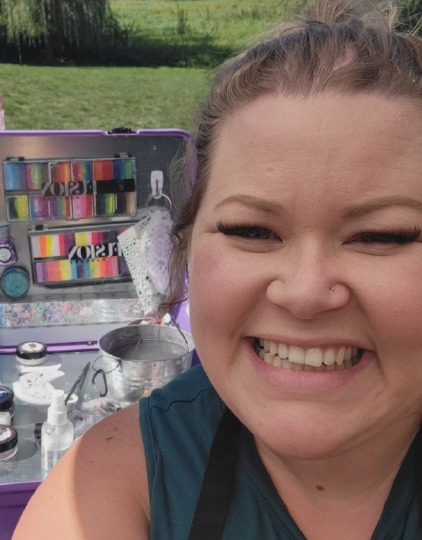 Mickey Kottke
Sweet Cheeks Face Painting